According to TMZ, the handwritten poem, dated Aug. 26, 1995, is addressed to Simi, a "former flame." The "Me Against the World" artist reportedly made references to Romeo and Juliet as well as the biblical characters Samson and Delilah in the poem's opening lines.
According to Moments in Time, it was previously housed in a private collection. The poem is billed as "the genesis for" the title track to 2Pac's 1996 album All Eyez on Me on the autograph dealer's official website.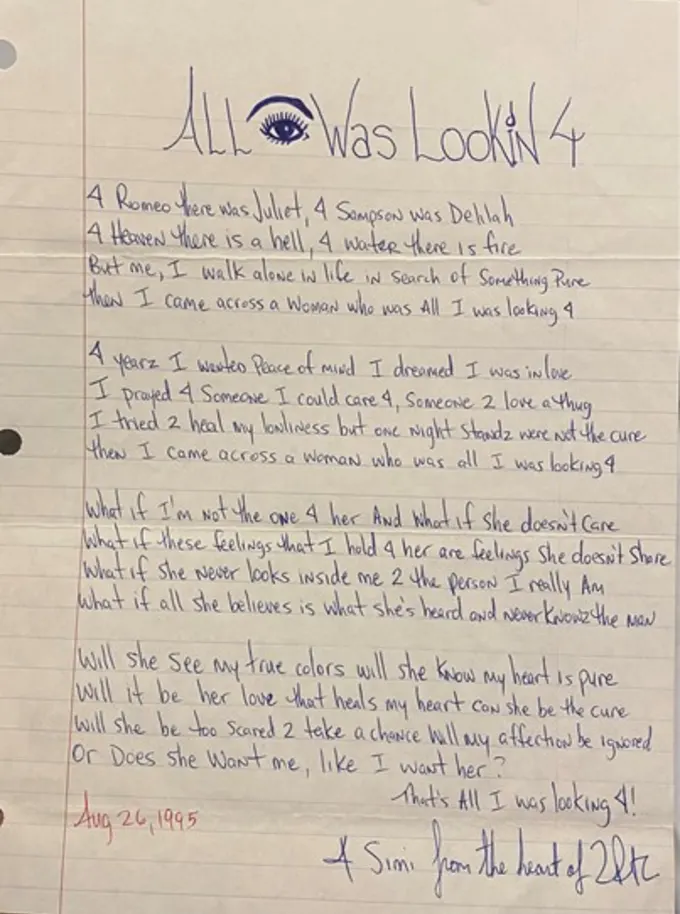 At the time of this writing, the "All Eye Was Lookin 4" poem was listed with a price of $95,000. Complex, earlier, has reached out to a rep for Moments in Time for comment. Per the official site, the autograph dealers promise a "lifetime guarantee of authenticity" in connection with their sales.
Earlier this year, Jada Pinkett Smith commemorated what would have been 2Pac's 50th birthday by sharing a never-before-seen poem that was penned while the revered artist was locked up at Rikers Island. "As we prepare to celebrate his legacy … let's remember him for that which we loved most … his way with words," Jada said when sharing an Instagram clip of the handwritten poem, titled "Lost Soulz."
Source : TMZ